Well, it's been hard rolling through Pennsylvania, as the Appalachian mountains never end. I am greeted by spectacular views, however, such as this one: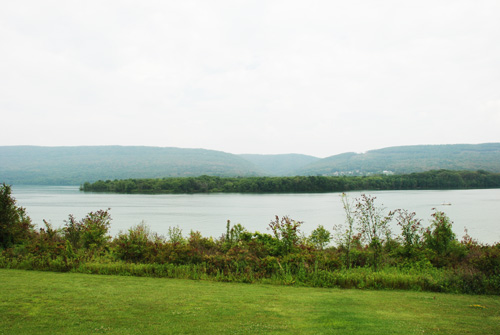 It's the Warrior's Path near Milesburg, Pa., where trails from all parts of the Six Nations converged. There, warriors would travel to Eagle's Nest (Milesburg), and down to the Carolinas where they'd wreak havoc.
On the religion note, a post on GetReligion.org has me thinking. The poster takes issue with Anglicanism being cited as the third-largest linkage of human beings, after the United Nations and the Roman Catholic Church. He doesn't even think it should be the second-largest expression of Christianity.
The poster thinks that the largest religion hierarchy ignores Christian Orthodoxy, Islam, Buddhism, and many others, which have numbers larger than Anglicanism. He calls it a "slam dunk."
But his argument is extremely flawed. Orthodoxy, Islam, and Buddhism are not valid comparisons. Anglicanism is its own denomination within Christianity. To make the comparison fair, you'd have to break down the other faiths into Greek Orthodoxy, Sunni Islam, Theraveda Buddhism, etc. The numbers might still win, but then the numbers would be more applicable.
But it's never a fair numbers game, as the categories are never distinct. Is Ahmadiyya a form of Islam? It says so, but Iran says differently. Do you count Southern and Northern Baptists as a united front? What about Jews for Jesus? Are they Jewish or Christian?
This has me thinking about a lot of classifications. When reading about major world religions, Judaism is almost always included, but Chinese, African, or other traditional faiths are not. Why? Often they have more numbers than Judaism, which constitutes less than 1/4 of a percent of the world's population.
This is not to say that Judaism is not important or influential, which it obviously is. But if "major" generally means a numbers game, what gives?
Also, if Jews, Sikhs and Baha'is are included, as they are on Wikipedia, why not Scientology? There are about as many Scientologists as there are Baha'is in this world. I'd venture that it's because many people are extremely discriminatory towards Scientologists, and I can provide thousands of examples to prove it.
Can anything be fair? Or does creating a list of major world religions inevitably engender bias? What is the point, anyway? GetReligion.org alludes to the worst of religion: when it becomes a contest between peacocks to see who has the best plumage.