I'm under the awning of a humongous RV in Zion's Camp, where at least 50 families in the pageant are staying. Right next to Hill Cumorah, it's a makeshift community, with each family posting colorful, often homemade signs detailing their names and where they come from. Although most people have never met before the pageant, the community already seems tight-knit, with boisterous after-show parties and a flurry of greetings on every walk down the paths.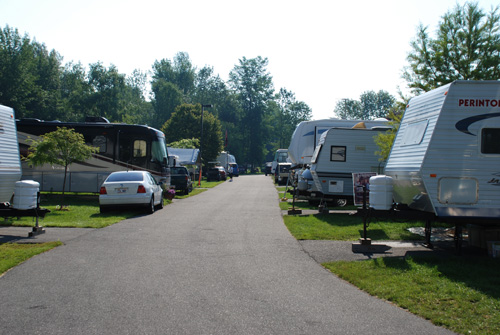 And I am the only non-Mormon here. I was granted the honor when pageant members heard that I was on a bicycle, and didn't want me to have to forage in the wild without amenities. So, after passing security guards whose sole purpose is to keep on-lookers out, I have access to laundry, showers, and plenty of conversation.
We talked about everything, from Quaker meetings for business, to United Church of Christ slogans, to Mormon Sen. Orrin Hatch's comparing environmentalists to drug users. But what we talked about most, of course, was the pageant which I had just seen.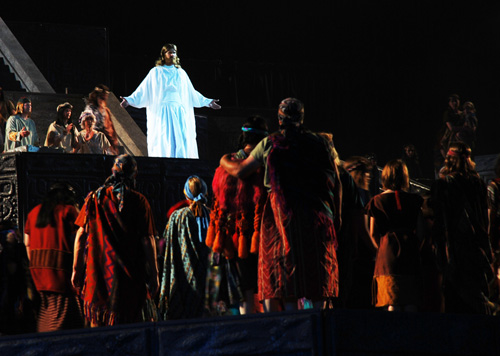 The pageant was beautiful, with a stirring soundtrack by the Mormon Tabernacle Choir and 716 cast members earnestly dancing and fighting onstage. Thousands had come to see it on its opening day, and the applause was fervent and enthusiastic.
Most striking of all, however, were the special effects, which the pageants it famous for. Jesus descended from the sky, bursts of flame and water wrecked Jerusalem, and a glowing piece of holy fruit bestowed knowledge on the prophets Lehi and Nephi before they set sail for the New World.
Talking with cast members and onlookers after the show, many greatly moved and confirmed in their faith. One actor, Matthew Thomas, said it eloquently. "Someone once said that theater is the suspension of disbelief, and for me and my family, this experience is the demonstration or the realization of belief. When the savior comes in the final scenes, it's very touching, because it's my faith, my knowledge that that day will come, and it will be a beautiful time to see him and thank him for what he's done."
When you meet a Mormon missionary and talk about faith, one verse from the Book of Mormon is almost always brought up, Moroni 10:4:
"And when ye shall receive these things, I would exhort you that ye would ask God, the Eternal Father, in the name of Christ, if these things are not true; and if ye shall ask with a sincere heart, with real intent, having faith in Christ, he will manifest the truth of it unto you, by the power of the Holy Ghost."
That sentiment, in many forms, was echoed throughout the pageant and the events before and after it.
Most faiths have a similar text, and believe that they are the true manifestation of God's will. This always trips me up. Many religious people, especially those who have come into a religion other than the ones they were raised in, have looked into their hearts, prayed for truth, and found the verity of the faith they have adopted.
Either a whole lot of people are wrong, or no one is wrong. This is where faiths split, people are excommunicated, and wars start. But it's also where reformations happen and new prophets emerge.
How do people, who ask purely, get different answers? More importantly, how do you stay confident in your faith in the face of so many truths?
The Mormon faith is not my faith, but I can see the bright happiness in the eyes of those who believe. And I can feel God at Mormon sites, but is it my God?