Last night, we passed through Cedar Rapids, Iowa, home of the first mosque in all of North America. Like you, I was thinking, "In Iowa?" But yes, out off all of the locations for a mosque to be built, the first Muslim community to decide to build a mosque was in the tiny industrial town of Cedar Rapids, home of Quaker Oats and its pervasive yeasty smell.
Here's a photo of the one-room mosque: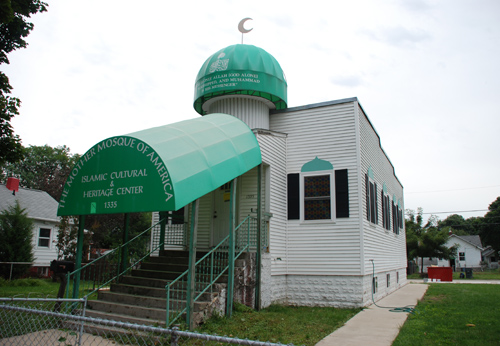 We arrived in town about an hour before sunset, when Muslims break the fast of Ramadan, which this year falls between August 31 and September 29. In observance of the month when the angel Gabriel gave the Qur'an to Muhammad, Muslims do not eat or drink anything from dawn to dusk, among other abstentions.
But everyone was gathering at the Islamic Center a few miles away, so we high-tailed it over. Finished just a little over a year ago, the Islamic Center was built to accommodate Cedar Rapids' growing Muslim population, which is currently way too big for the Mother Mosque. Here is is: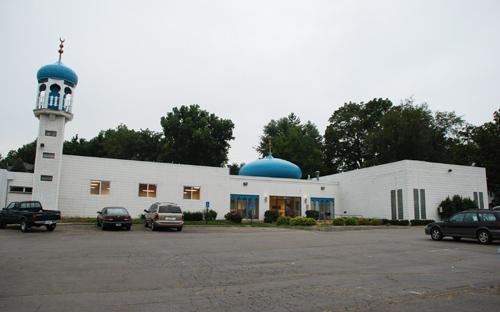 This mosque had one of the most diverse groups of congregants I have ever seen. There were Arabs, Africans, Southern Europeans, and corn-fed Midwestern white folks, all praying together.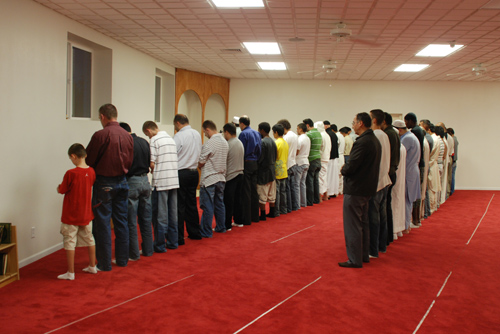 The group was very welcoming, feeding us dates and yogurt. Food is very important in Middle Eastern culture, to put it mildly, and I've never been to a mosque or a Muslim household where I haven't been presented with a lot of goodies it would be impossible to resist. Here, the buffet reflected the region, with sauerkraut, hot dogs, donuts, and soda. My favorite.
But after prayers and the meal the imam of the Mother Mosque, Taha Tawil, took me back to it to give me a tour.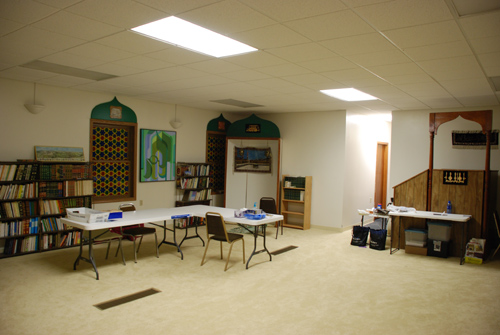 The mosque goes way back into the early 1900s, when the community gathered and dreamt of being their own mosque. According to Tawil, Arabs migrating to America from Greater Syria, which encompassed Lebanon, Palestine, Jordan, and modern Syria, arrived in New York Harbor, and were told that all the Muslims were going to Iowa. It was probably partly to be a bit removed from the Protestant society, but also to find a place where they could be self-supporting.
Most of the fist Arabs that came to Cedar Rapids were Christian, however. Muslims came later. In the 1920s, a dozen or so young Muslim men had gathered together for communal prayer, and adopted the name "The Rose of Fraternity Lodge" in 1925. Four years later, they hired their first imam and began plans for building the mosque. Working through the Great Depression, much of the construction had to be done by the members of the mosque themselves.
Technically, there were other mosques in the country at the time, but these were generally not self-standing structures, often above grocery stores or other establishments. When the communities moved, they sold them, and none of them exist today.
It's a miracle that the Mother Mosque still exists. In the 1970s, the community had gotten so big that they laid eyes on a larger plot of land out in the woods. The Mother Mosque was sold to a teen center, then a Christian congregation, then a refugee center, and was then abandoned in the late 1980s.
Tawil led the move for the mosque to be reclaimed. When it was abandoned, Tawil says he got lots of calls from neighbors asking, "Why don't you take care of your property?" "What property?" Tawil asked, coming to see the sad state of the mosque. But the board of the new mosque didn't want to take care of it, as they had no need of it.
"But since I came from Jerusalem, and I know what history is, I could not let the first mosque in America go like that," Tawil says. So he appealed to other Muslim sources, they bought it back, and turned it once again into a Muslim cultural center, where 40 or 50 families pray.
It's not Sunni or Shi'a, but non-sectarian. As Tawil explains, "Neither the Sunni and the Shi'a know what is Sunni and what is Shi'ite. They were born here, they have been here, and they don't know the difference. They both read the Qur'an, the sayings of the prophet, and pray facing the Qibla. We don't really talk about differences, we talk about unity … Culture and tradition can be a disaster in many ways."
And then came the flood of 2008, in which a humongous snow melt caused the rivers to overflow, devastating much of Iowa. The area around the mosque was hard hit, and is now a ghost town. Most of the houses are vacant, with scuzzy lines around eight feet above the ground, marking the water level.
The mosque wasn't spared. The lower level was completely destroyed, along with many books and records. Here, Tawil shows how high the water rose: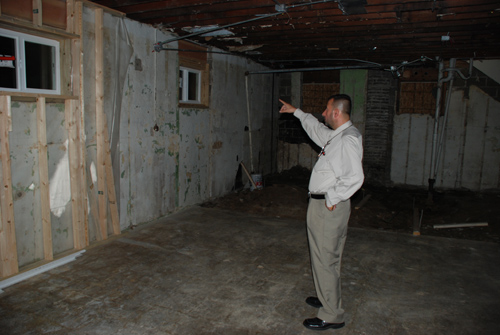 The mosque is having a hard time repairing the damage. After the floods, religious communities from all over Iowa helped to clean up the damage, but repair is another story. Funds are low, and there hasn't been as much help from the national Muslim community as Tawil would have hoped. It may be as much as a year or so before the mosque is restored.
As I close this post, I wanted to mention one thing. Half of the time I was with Tawil, he spent explaining how well the Muslims get along with their neighbors, how close Islam is to Christianity and Judaism, and how this mosque is not just a Muslim monument, but an American one. (As though I needed convincing.) There was a little bit of strain in his voice when he discussed this, like a cassette tape which has been played a thousand times and is getting weary.
I come across this a lot. After 9/11, Muslims seem to have to constantly justify themselves, prove to people that they are just as American as everyone else. What can I say? It shouldn't have to be that way.